Workshop Schedule
Floral décor workshops to kick start the Christmas season.
These make and take classes will fill up quickly so reserve your spot now.
All classes held at KAY'S Petals & Plants, 437 Lyndock St., Corunna.
Pre-registration with payment at least 5 days in advance is required.
You can call 519-862-2333 for more details.

Items shown may vary slightly at class.
Woodland Cardinal Workshop

Cost: $45

When: Thursday, Nov. 22 at 7pm
You create this everlasting centerpiece with a little red cardinal nestled among artificial greenery in a ceramic birch look cube.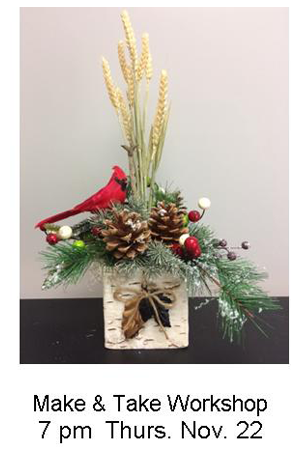 ---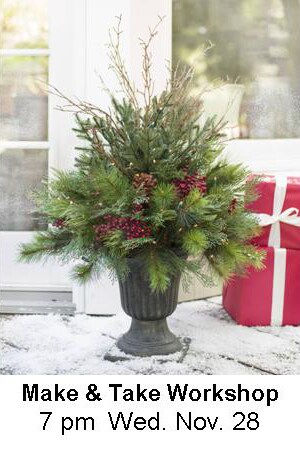 Holiday Urn Workshop

Cost: $45

When: Wed. Nov. 28 at 7pm.
An arrangement you create to fill your own urn with fresh evergreen and accessories. We supply the liner, greenery, foam and basic accent items. Additional accents available to purchase.
---
Country Crate Centerpiece Workshop

Cost: $50

When: Wed. Dec. 5
Create a fresh evergreen centerpiece accented with natural cones, pods and twigs in a rustic wooden crate.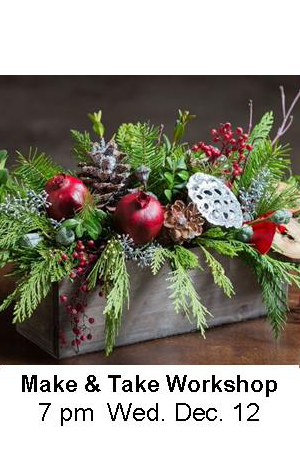 ---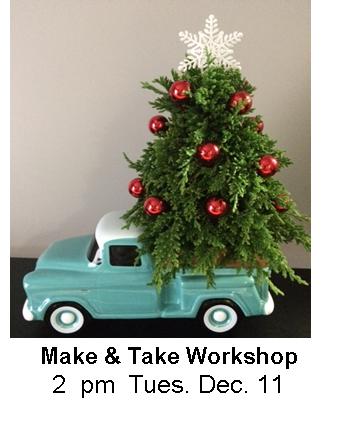 Tree in a Truck
Cost: $65
When: Tues. Dec. 11 at 2pm
Create a fresh mini evergreen tree in the back of an iconic, ceramic '55 Chevy pick up truck!